Welcome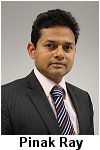 Mr Pinak Ray is delighted to welcome you to his website.

This website aims to inform all patients and healthcare professionals about Mr Ray's practice of foot and ankle surgery and sports injuries in North London.

Mr Ray practices in a number of private hospitals in North London covering a large geographical area.

Mr Ray's NHS base is the Barnet and Chase Farm Hospital Trust.

Mr Ray is a Consultant Orthopaedic Surgeon practicing in North London and is delighted to see patients and advice on all aspects of Foot and ankle problems and sports related injuries of the lower limb.
Foot

Bunion (Hallux Valgus)
Hallux rigidus
Hammer toe, claw toe deformity
Metatarsalgia
Mortons Neuroma
Flat feet
Cavus of high arched feet
Arthritis
Heel pain and plantar fascitis

Ankle

Arthritis for Arthroscopy
Arthritis for ankle replacement
Arthritis for ankle fusion
Achilles tendon dysfunction
Anterior ankle impingement
Posterior ankle impingement


Sports injury

Injuries around the knee
Meniscal injury
Anterior crutiate ligament injury
Osteochondral defects
Fractures around the knee

Injuries of the ankle

Ligament injury leading to ankle instability
Osteochondral defect of the talus
Ankle fractures
Peroneal tendon injuries

Injuries of the foot

Metatarsal fractures
Calcaneal fractures
Talar fractures
Stress fractures of the foot
Phalangeal fracures