Biography - Pinak Ray Consultant Orthopaedic Surgeon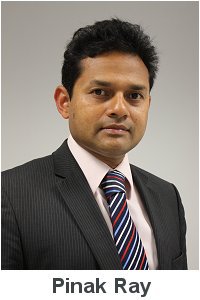 Mr Ray's career in medicine started in India in 1984. He finished his MBBS and soon decided to persue a career in Orthopaedic surgery. He got into the Resident programme and successfully completed his thesis on "Cartilage healing" and was awarded the MS degree in Orthopaedics. Following a short stint as a Lecturer in a University medical school, he decided to broaden his experience and came over to England in 1994.
His extensive training in England has taken him to centres of excellence in Sheffield, Leicester and London. He was awarded the MCh (Orth) degree in 1998 from the University of Liverpool, the FRCS in 2002 followed by the Fellowship of the Intercollegiate board for Trauma and Orthopaedics, FRCS (Tr & Orth), in 2003.
Following a fellowship in London he joined the faculty in Royal Free NHS Trust in 2004 as a Consultant Trauma and Orthopaedic Surgeon. He has been in post for more than 15 years and has gained extensive experience in his field of expertise.
He specialises in foot and ankle surgery, trauma and sports injuries.
Mr Ray provides a state of the art foot and ankle service in the NHS and the Private sector. His special interest includes bunion surgery, all forms of forefoot deformities and forefoot neurological pain.
He is an expert in ankle arthritis and its treatment. He specialises in adult flat feet and hindfoot arthritis. He is one of the few surgeons offering ankle replacement and toe joint replacements for arthritic pain in North London.
Mr Ray also specialises in sports injuries of the lower limb. He offers key hole surgery for all sporting injuries of the foot and ankle. He is an expert in tendon injuries of the foot and ankle. He regularly deals with and operates on sports related injuries of the Achilles tendon, ankle ligaments and peroneal tendons. His special interest is in all types of sport related fractures of the knee, leg, ankle and foot.
Mr Ray is a keen educator. He is invited faculty for national and international conferences. He mentors the next generation of foot and ankle surgeons.
Mr Ray has published extensively in domestic and international peer reviewed journals. He is active in ongoing national research trials. His main research interest are on foot and ankle joint fusions and ankle arthroplasty
Mr Ray is a member of National and International societies;
Mr Ray lives in North London. He has two boys who are in university. His wife is an Orthopaedic surgeon. His hobby is cooking and a snippet of his recipe can be found on the Instagram page ortho_chef. He is a keen golfer and is ever willing to learn new skills to improve his game.